We are honoured to be part of the Great Art for Great Lakes initiative, a multi-city art project that is bringing together 8 great lake cities to co-create 8 permanent artworks that promote water literacy and protection.
As the selected team to represent Toronto, Labspace Studio will be presenting our newest project DEEP BLUE at the Ontario Science Centre, in collaboration with seventh grader Daniel Ranger, a Great Lakes Trust junior ambassador. This participatory art installation will celebrate the beauty, ecology and majestic depths of Lake Ontario by using geodata and hundreds of pieces of suspended origami to map its "Bathymetry" (i.e. depth, terrain and form).
The installation will be unveiled on October 12th, 2017 at the Ontario Science Centre. 10am-11:30am.
On August 6 and 13, Labspace Studio and Daniel conducted origami workshops in the Ontario Science Centre's newest hands-on learning space, Inventorium. Visitors were invited to contribute to the installation by creating origami shapes – based on designs created by Daniel – that depicted various Lake Ontario species.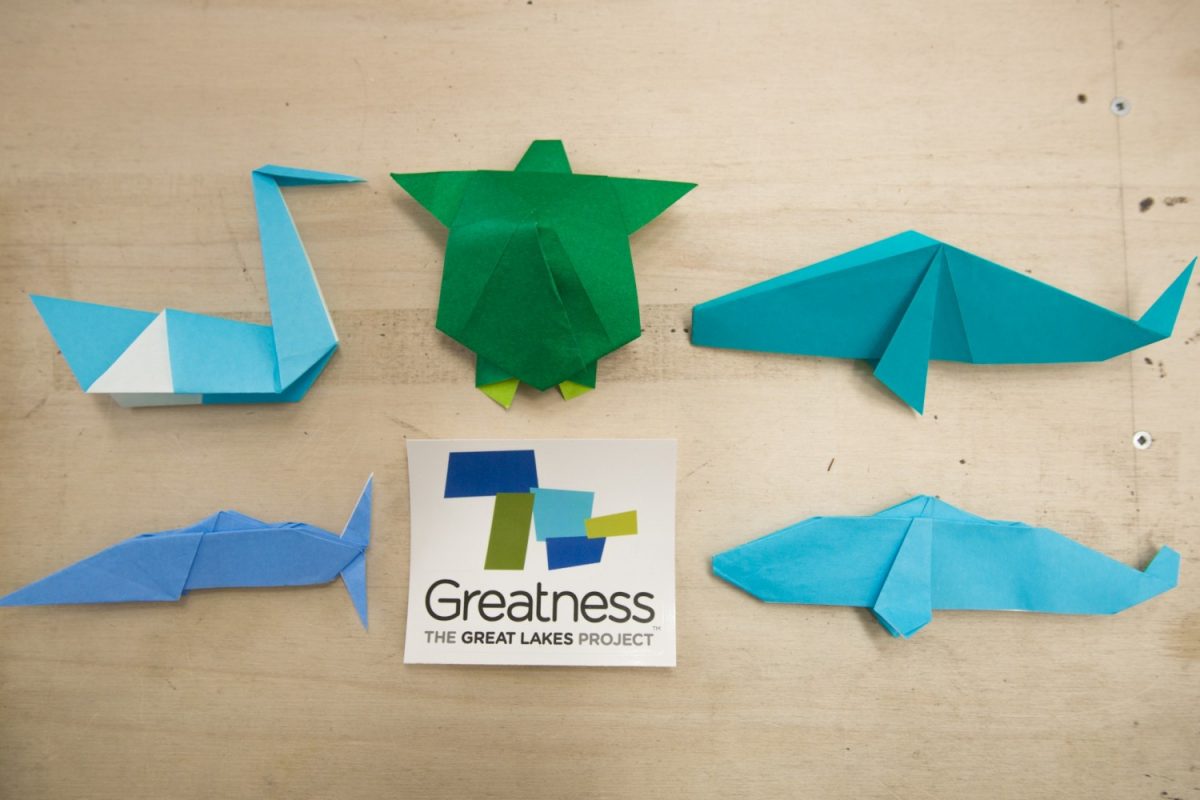 About Waterlution & Greatness—The Great Lakes Project
Waterlution has launched Great Art for Great Lakes as part of a larger initiative: Greatness—The Great Lakes Project, which began at a 2015 roundtable convened by Ontario's Lieutenant Governor. The participants, drawn from business, the arts, science and sport, resolved that "a bold and noble initiative" could make the Great Lakes a powerful symbol of "greatness" for the 40 million residents of the Great Lakes basin.
Labspace Studio is a Toronto-based artist collective and creative studio founded in 2007 by collaborators John Loerchner and Laura Mendes. Using the city as their laboratory and playground they explore the intricate connections between people and places, often examining the dualism between natural and urban environments. Their projects are often participatory and site-driven, incorporating elements of installation, sculpture, multimedia and public-generated content. Their work has been presented in Canada and abroad in galleries, public parks, shopping malls, festivals, public transit, storefronts, and city streets.
Daniel Ranger loves to sail and swim and is a junior ambassador for Great Lakes Trust (greatlakestrust.org). He has a keen interest in environmental issues and has participated in several Bioblitzes, working alongside biologists to collect and catalogue species in the Humber River, Credit Valley, and Don River watersheds. His first public art project, "SOS: Save Our Shells," was an intervention on behalf of snails for Grow Op 2017 at the Gladstone Hotel. The installation, consisting of more than 500 origami snails in mini ecosystems and snail crossings also crafted from paper, drew attention to what is beautiful, fragile, and unseen in the urban wilderness. Daniel will be in grade 7 in Fall 2017.
______
Special thanks to Daniel's mother and artist, Vivian Wong, for her guidance and assisting us in our workshops; to Nancy at the Japanese Paper Place for her expertise and beautiful paper; and to the Ontario Science Centre and Waterlution team for their ongoing support and vision.