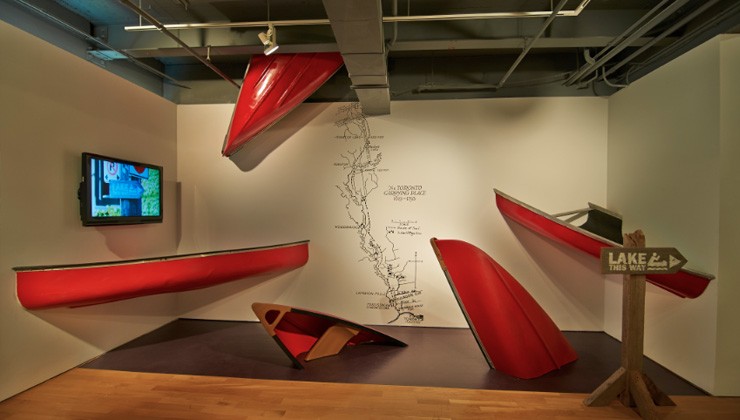 Passage is a collection of projects that respond to the challenges we face connecting to our lakefront in an increasingly urbanized landscape. Embracing the canoe as a cultural and historic icon for exploration, these projects suggest a call to action — a fierce reclamation and reconnection to Toronto's waterfront and waterways.
Voyage
Cross sections of a canoe are scattered and divided, immovable and sunken into a concrete scene, mirroring the state of Toronto's historic portage route that once connected Lake Ontario with the northern Great Lakes.

Lake This Way
Did you know that Toronto has a lake?! Installed in unlikely locations, these functional-yet-quirky signs aim to raise the level of waterfront consciousness among Torontonians.

Canoe Picnic Party
June 20, 8:00-10:00pm
Natrel Pond, Free
Join us in the spirit of community and canoe culture as we celebrate our connection to the waterfront over a slightly absurd canoe picnic party on the Natrel Pond.
LAKE EFFECT: Architects Respond to our Access to Water
Curated by Patrick Macaulay
North Design Office
Public Work
Victoria Taylor
With a visual arts installation by Labspace Studio
Harbourfront Centre
Architecture Gallery
June 21 – September 14, 2014