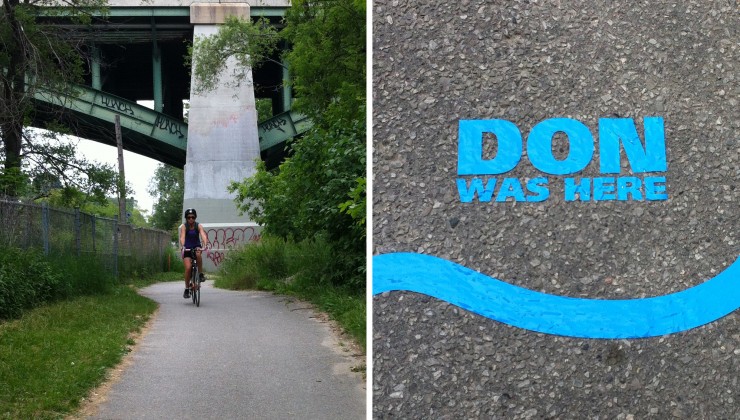 Don Was Here is a public art installation that aims to ignite civic interest in the history, legacy and renewal of Toronto's Don River and surrounding valley.
From June 22nd to September 21st, pedestrians and bikers along the Lower Don Valley Trail will encounter Don Was Here tags – visual trace marks of where the old Don River would have curved and flowed before it was straightened, channelized and tamed for industrial growth.
Eco-Art Festival at Todmorden Mills

No.9: Contemporary Art & the Environment, in partnership with the City of Toronto, launches its three-month long outdoor summer art festival. Set in Toronto's Don Valley, visitors will experience public art installations by leading Canadian artists, participate in art-based activities, enjoy live art and musical performances, and take docent-lead tours of the Don Valley Parkland.
Artists: Dean Baldwin, Nicole Dextras, John Dickson, Sean Martindale, Penelope Stewart, Ferruccio Sardella and Labspace Studio
PROJECT DETAILS | EXHIBITION DETAILS