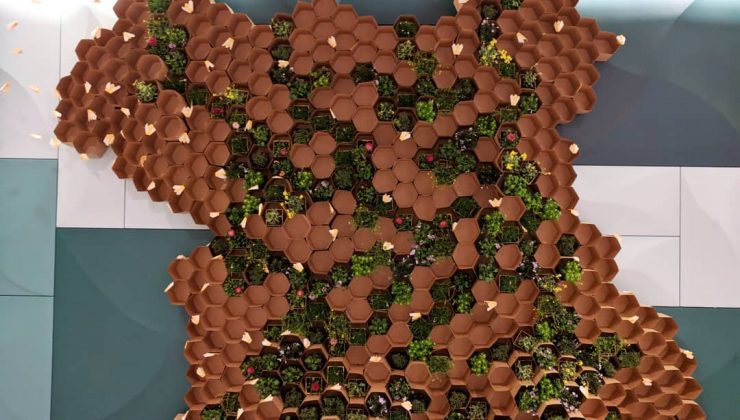 ON VIEW: April 16 – 20, 2018
HIVE is a series of site-specific installations in Toronto's financial district inspired by the beauty, complexity and vitality of the honey bee — the world's most important pollinator of food crops. It is estimated that one third of the food that we consume each day relies on pollination mainly by bees. Sadly, honey bees are disappearing globally at an alarming rate due to pesticides, parasites, disease and habitat loss.
In celebration of Earth Week, HIVE was commissioned to spark awareness and action to protect the health of pollinators as an essential step to protecting our environment and food economy.
This installation uses recyclable hexagonal boxes to create a playful honeycomb hive environment. Pollinator plants in a variety of shapes and colours are strategically inserted into various boxes that stand on sloping hills, forming a living, breathing, surreal honeycomb garden.
HIVE LOCATIONS:
Southcore Financial near Eatery (18 York St)
Commerce Court near Food Court (199 Bay St)
200 King St. West in Main Lobby
145 King St. West near Food Court
Commissioned by QuadReal Properties in partnership with CD Sonter Environmental Consultants.